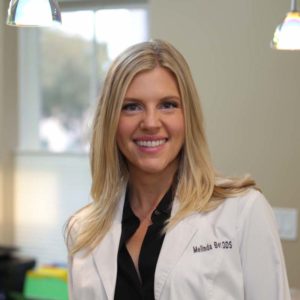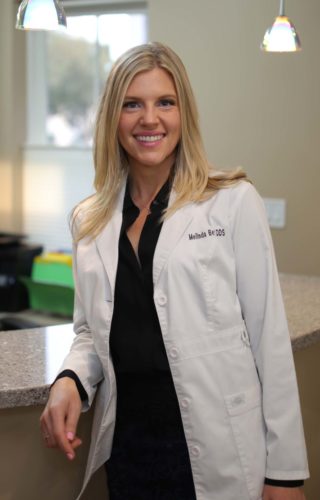 Dr. Melinda Beck
Doctor of Dental Surgery
Dr. Melinda Beck grew up in Portland, Oregon. She earned her Bachelors of Science in Biology from Gonzaga University in Spokane, Washington. Dr. Beck graduated from Creighton University Dental School in Omaha, Nebraska with a Doctorate in Dental Surgery.
After dental school, Dr. Beck completed a residency in Advanced Education in General Dentistry in Chicago, IL. The program consisted of focused rotations in simple and complex tooth extractions, root canals, gum surgeries, minor orthodontics, and full mouth rehabilitation.
She was then commissioned as a Lieutenant in the US Navy, working as a dentist in Sasebo, Japan for 3 years and providing care to the 8,000 shore based sailors, marines and family members stationed there. She enjoyed the more family oriented approach to dentistry in this environment and learned to be very efficient in treating dental emergencies and trauma. As the only treating dentist dealing with a heavy PTSD population, she eased patient's fears with her warm compassion, gentle nature, and willingness to take the time to educate patients and explain necessary treatments to the patient's satisfaction and understanding. She places a high priority on building trust and getting to know the patient.
Following her naval service, Dr. Beck owned and operated a very successful private practice in the retirement community of Ashland, Oregon. There she dealt with the perils of medication and radiation therapy induced dry mouth, treatment planning for the medically compromised, root decay, full mouth reconstructions and other dental issues associated with the more senior members of the community. Education of our senior care facility workers and home care aides is also of utmost importance in improving oral hygiene in our patients who have lost the ability to do so themselves.
With the birth of her first daughter, Dr. Beck relocated to Orange County to be closer to family. She enjoys running, reading, gardening, independent films, eating and most of all, traveling.
We believe dentistry is not only the act of providing care, but also being an active member of the community through volunteering and supporting local causes.
We operate as true members of the community by supporting local causes. We are passionate about giving back and being there for those in their time of need. A portion of our proceeds each year is dedicated to supporting local non-profits and improving the community as a whole.